HOW TO CLAIM PRIZES AT RETAIL
IF YOUR LOTTERY PRIZE IS LESS THAN $1,000, YOU CAN CLAIM YOUR PRIZE AT RETAIL.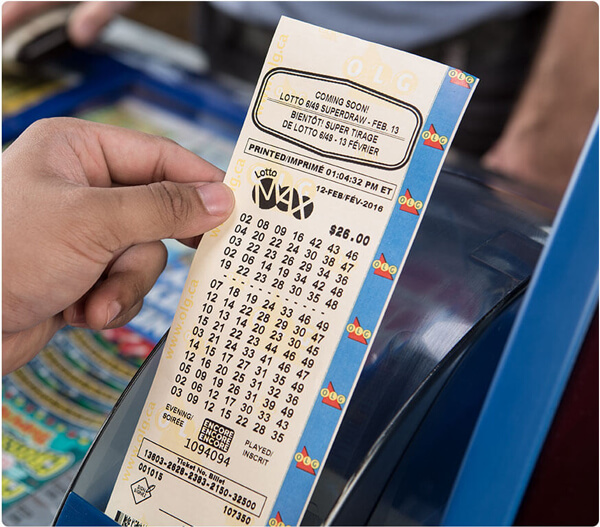 Take your signed ticket to an OLG Authorized Retailer for Prize Verification on a Lottery Terminal.
You will see a winning message on the Customer Display Screen and hear a winning message play from the lottery terminal.


If the retailer can pay your prize, he or she will tear through the bar code of your paid-out ticket, and return the validated ticket to you along with the corresponding Customer Receipt.


If a retailer is unable to validate your ticket because it is damaged you must mail it to the Prize Centre to determine if the ticket has won a prize.


GETTING A CUSTOMER RECEIPT
Every time a Retailer checks a ticket on a Lottery Terminal, a customer receipt is printed.
The boxed ticket number on the customer receipt will match the ticket number on your ticket.


A winning ticket will show the prize amount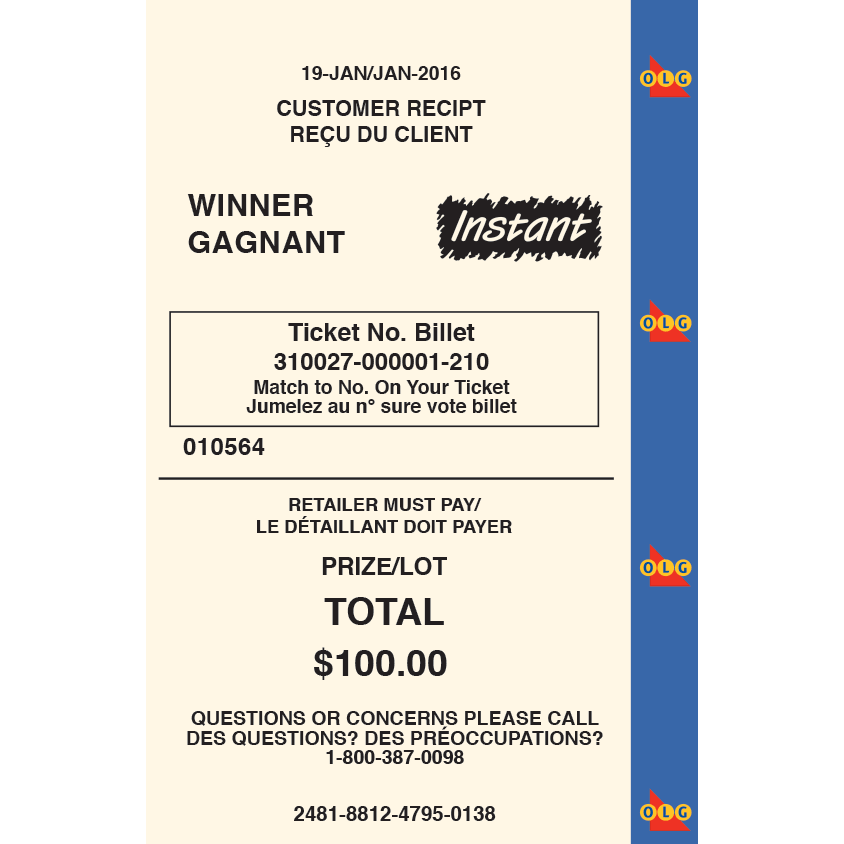 Prizes up to $999.90 may be claimed in store, depending on the retailer's ability to provide payment. Your retailer may pay your prize amount in cash. Also, retailers now have the flexible option of paying directly to a customer's credit or debit card if their payment processing service and/or bank's terms and conditions allow for it. This payment method may only be used with the customer's permission and is only available for prizes up to $999.90.
Payment can only occur after the successful validation of a winning lottery ticket. If the retailer is not able to pay the prize, they must return the ticket and customer receipt to you. You may then check the ticket at another location. Every retailer can pay up to (and including) $50.
If you still have draws remaining on your winning Lotto ticket, you will be provided with an Exchange Ticket from the lottery terminal. This will be your ticket for the remaining draws.
Once received by OLG, winning tickets and tickets that are damaged become the property of OLG and cannot be returned to the claimant.
No Assignment of Prize Winnings. Prize winnings cannot be assigned, transferred, lent, sold or otherwise directed to third parties by prize winners. For greater specificity, all prize winnings will be paid directly to the eligible prize winner (as determined by OLG).
OLG's goal is to ensure that the right prize is paid to the right person(s) every time. There are times when ownership of a lottery prize is disputed by the claimants and other parties. When an ownership dispute occurs, options are available, as follows. The parties involved may settle the matter privately, or by proceeding in the Ontario courts, or resolve through arbitration by an arbitrator appointed by the Chair of the Board of the Alcohol and Gaming Commission of Ontario (AGCO). All parties to a prize dispute must agree to the process for arbitration to proceed. For more information on the AGCO arbitration process visit the AGCO website. Any party to a prize dispute is advised to obtain independent legal advice.