ALL ABOUT DIRECT PAY
Try this convenient new way to buy lottery tickets on OLG.ca and the OLG App.
Registered players can use Direct Pay to buy tickets with a credit card without having to deposit funds into their e-wallet.* Accepted forms of payment include VISA, Mastercard, VISA debit and Mastercard debit.*
This option is available on your desktop, smartphone or other devices for all purchases including lottery subscriptions!
It is available on the OLG App for next draw purchases of up to 10 tickets at a time.
Direct Pay subscription purchases on the OLG App will be offered soon.
* Direct Pay is not available for Casino or Sports purchases. 
KEY BENEFITS
FAST – Purchase lottery tickets directly using your credit card. Save up to 3 cards on your OLG.ca account.
 
SKIP THE FEES – Direct Pay transactions do not have cash advance fees!


RESPONSIBLE – Direct Pay aligns with existing PlaySmart tools, including purchase limits, to help keep the fun in the game.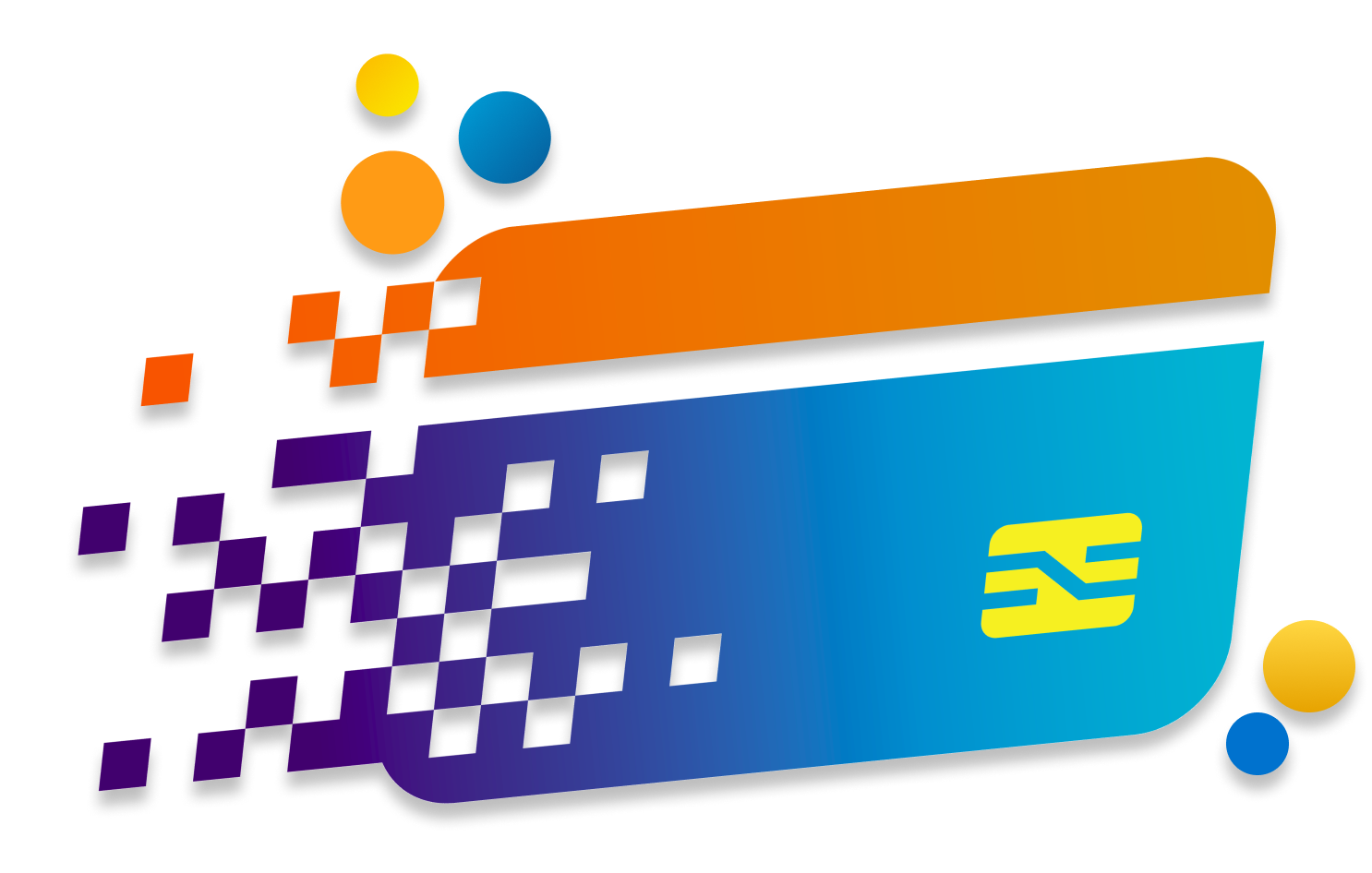 HOW IT WORKS
Select Direct Pay at checkout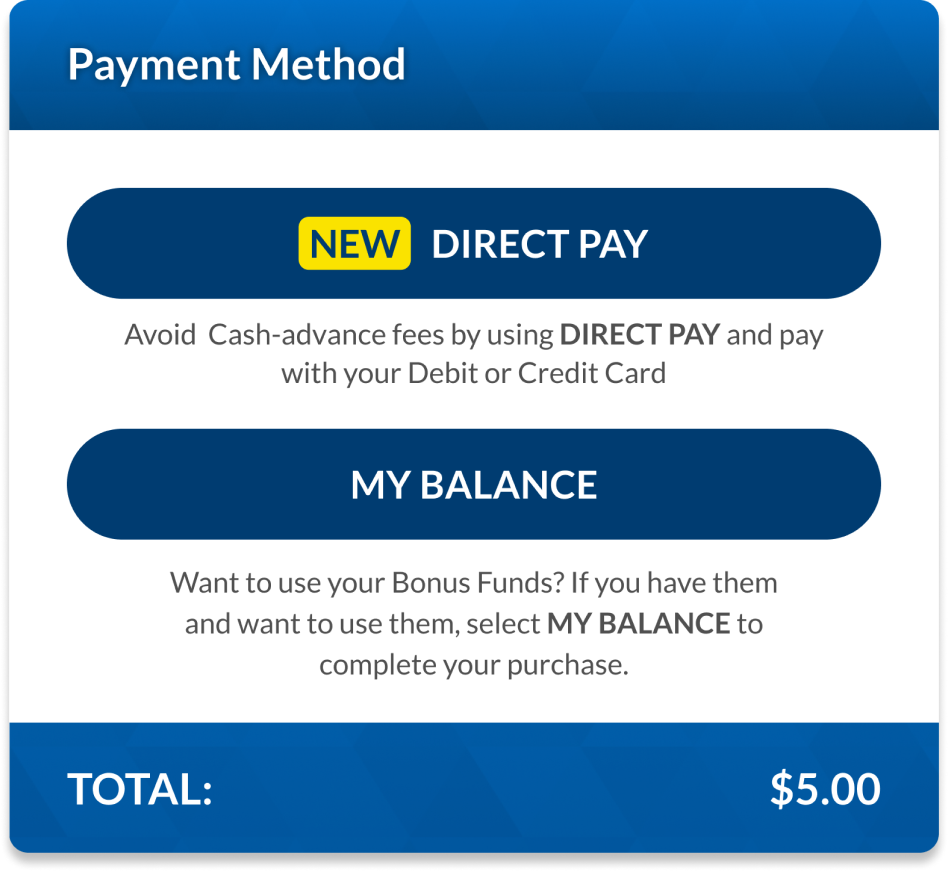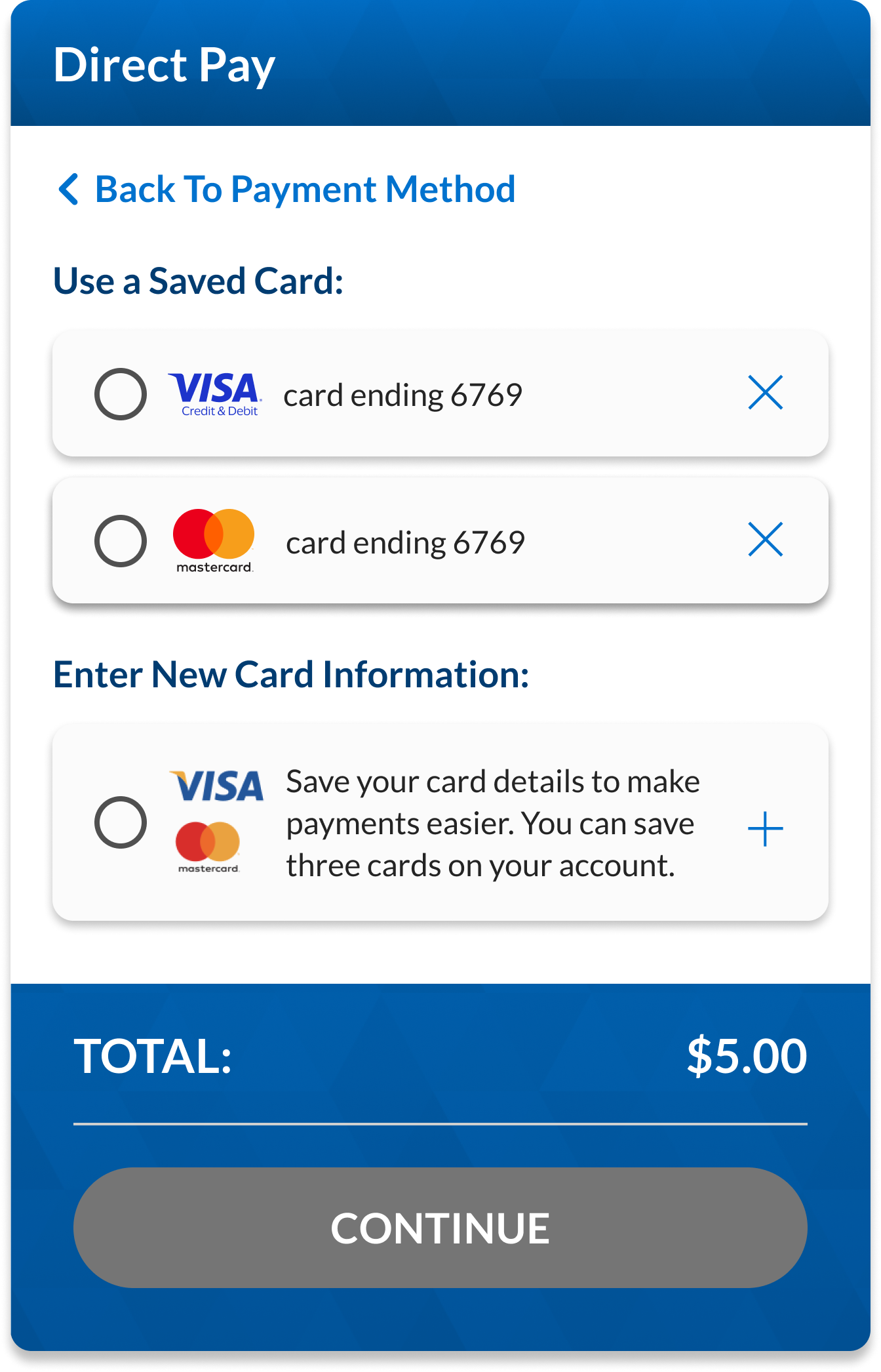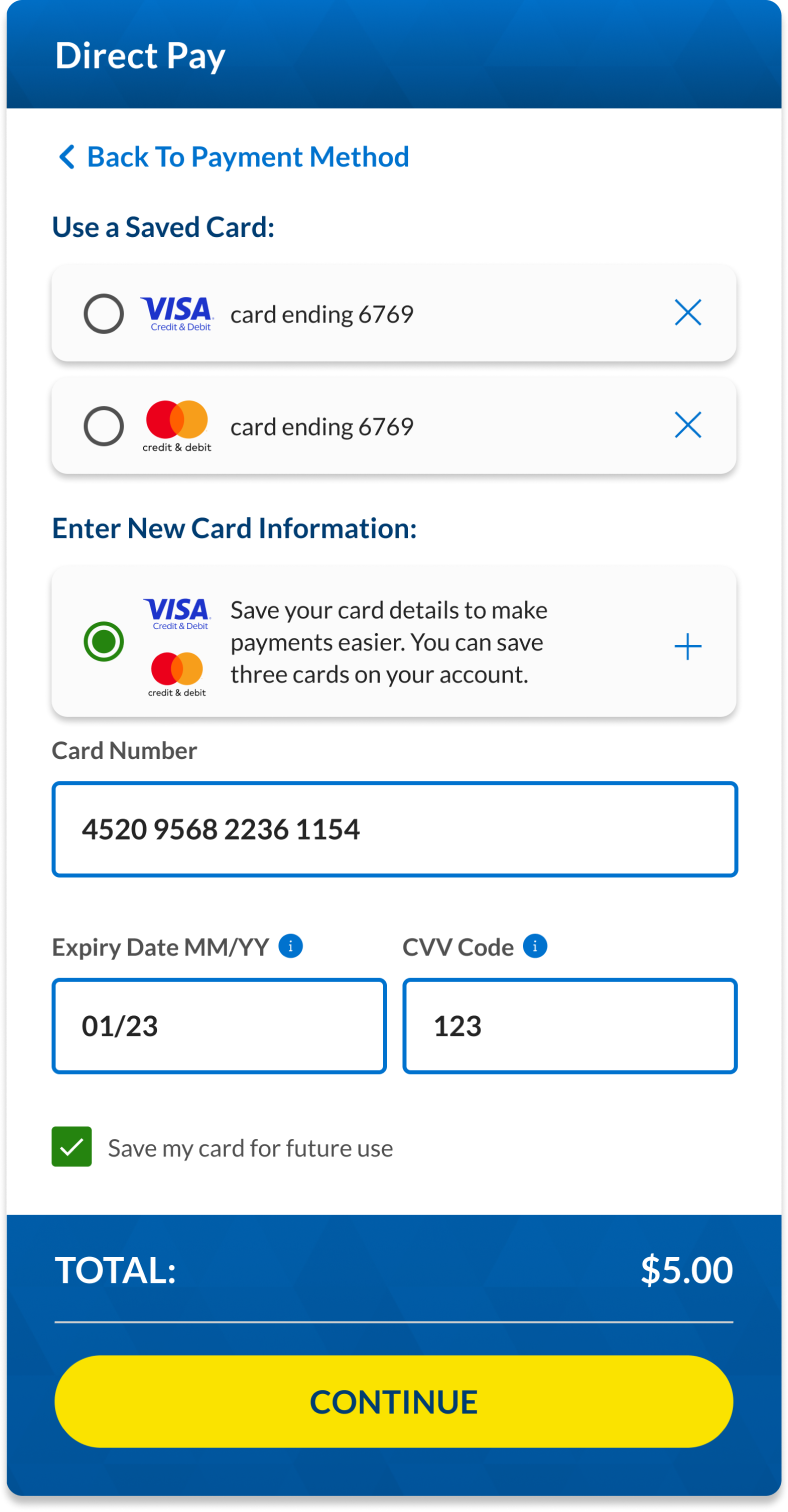 Enter saved card CVV Code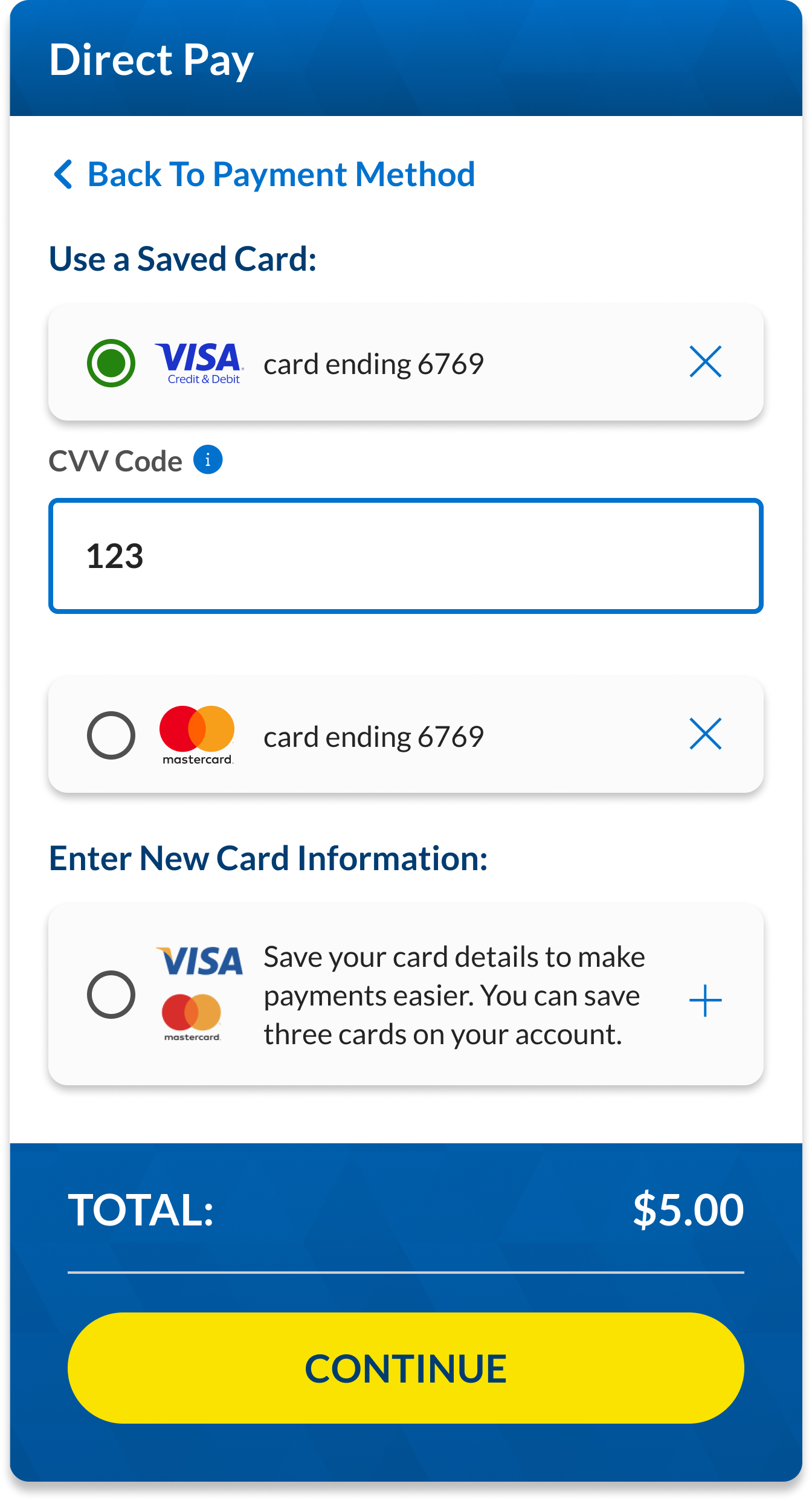 Follow the same steps when setting up a Lottery Subscription with Direct Pay. You will be required to accept our subscription payment consent.
FAQ
Direct Pay is a new payment method that allows registered Players on OLG.ca and the OLG App to purchase Lottery tickets using their Visa or Mastercard without the need to deposit funds in My Balance. Direct Pay may help you avoid cash advance or other fees that could be charged by your financial institution when making a deposit. Do you want to create an account? Get started here. 
You can use Direct Pay on OLG.ca (website), for all purchases including subscriptions, when you play on your desktop browser, smartphone or other devices. Currently the OLG App supports purchasing up to ten tickets at a time for the next draw. The ability to start a subscription on App will be available soon.
Yes, you can! You can now purchase and fund a Lottery Subscription using Direct Pay when you play on OLG.ca (website) using your desktop, smartphone or other devices, but not currently on the App. You will be able to make subscription purchases on the App soon.
Yes. You can pay for your subscriptions using any available method. You can also store up to 3 different credit cards on your account OR use My Balance to pay for your subscriptions.
Want to change your payment method? No problem! 

Step 1: Log in to your account
Step 2: Navigate to My Transaction History OR 'My Subscriptions' of your profile's drop-down menu
Step 3: Select 'View Lottery Transactions'
Step 4: Find the Subscription ID for the subscription you want to update payment method. 
Step 5: Within the 'Subscription Details' page, select 'Manage Payments'
Step 6: Choose the new payment method you would like to use or add a new card
Step 7: Select 'Update' and consent to the new subscription payment method
Please note, by following the steps above, you do not need to make a deposit in order to change your card.
Winnings from Lottery tickets purchased using Direct Pay will be paid to My Balance and not the card used to purchase the ticket. Read more about how to claim prizes won on OLG.ca.