HOW TO REGISTER ON OLG.CA
Need a hand in registering for an OLG account? We're here to help.
Register in just five steps to start playing. Let's begin!
Step 1:
CREATE YOUR OLG ACCOUNT
On the upper right corner of the header, select 'Sign Up' to start the Registration Process. Fill out important account details like your username and password. Once done, click 'Continue.'
STEP 2:
TELL US ABOUT YOURSELF
Tell us a little about you! Fill out the required fields with accurate information so we can get to know you better. Rest assured, all your account and personal information are kept secure. You even get to choose your security questions for further protection. Once done, click 'Continue.'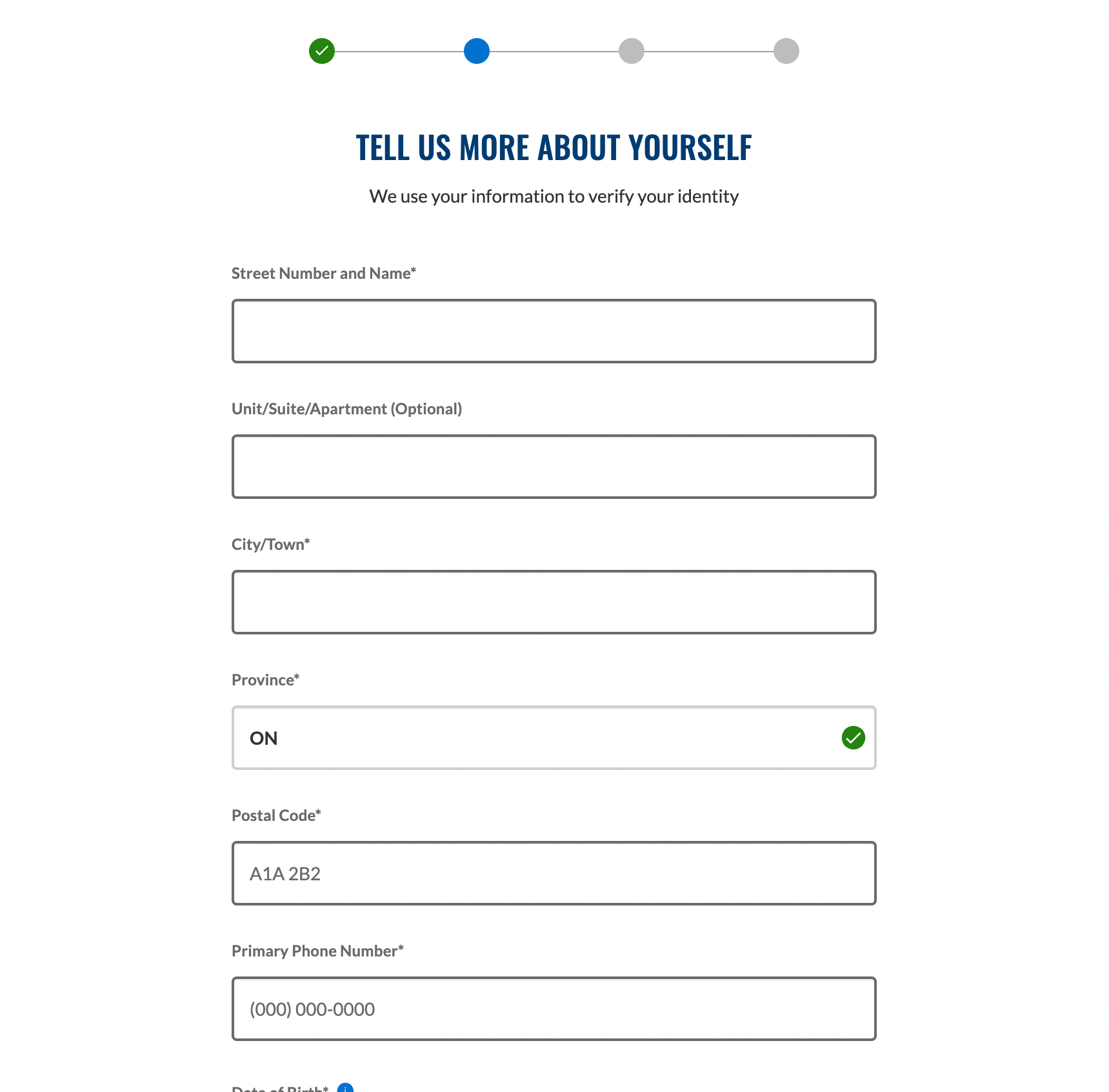 STEP 3:
SET YOUR PREFERENCES
LANGUAGE PREFERENCES
Choose between 'English' or 'Français'.


MARKETING PREFERENCES
Want to be the first to hear about our exclusive promotions, special offers and new games / products updates? Simply select 'Yes.' If you change your mind, you can unsubscribe anytime by using the link provided in the email or by logging in and navigating to My Account > My Personal Info.


HAVE A PROMO CODE?
Enter the promo code in the field provided to redeem!


ACCEPT YOUR TERMS AND CONDITIONS
Be sure to read, understand and accept our Terms & Conditions by checking the 3 boxes before you click "Accept" to proceed to the next step.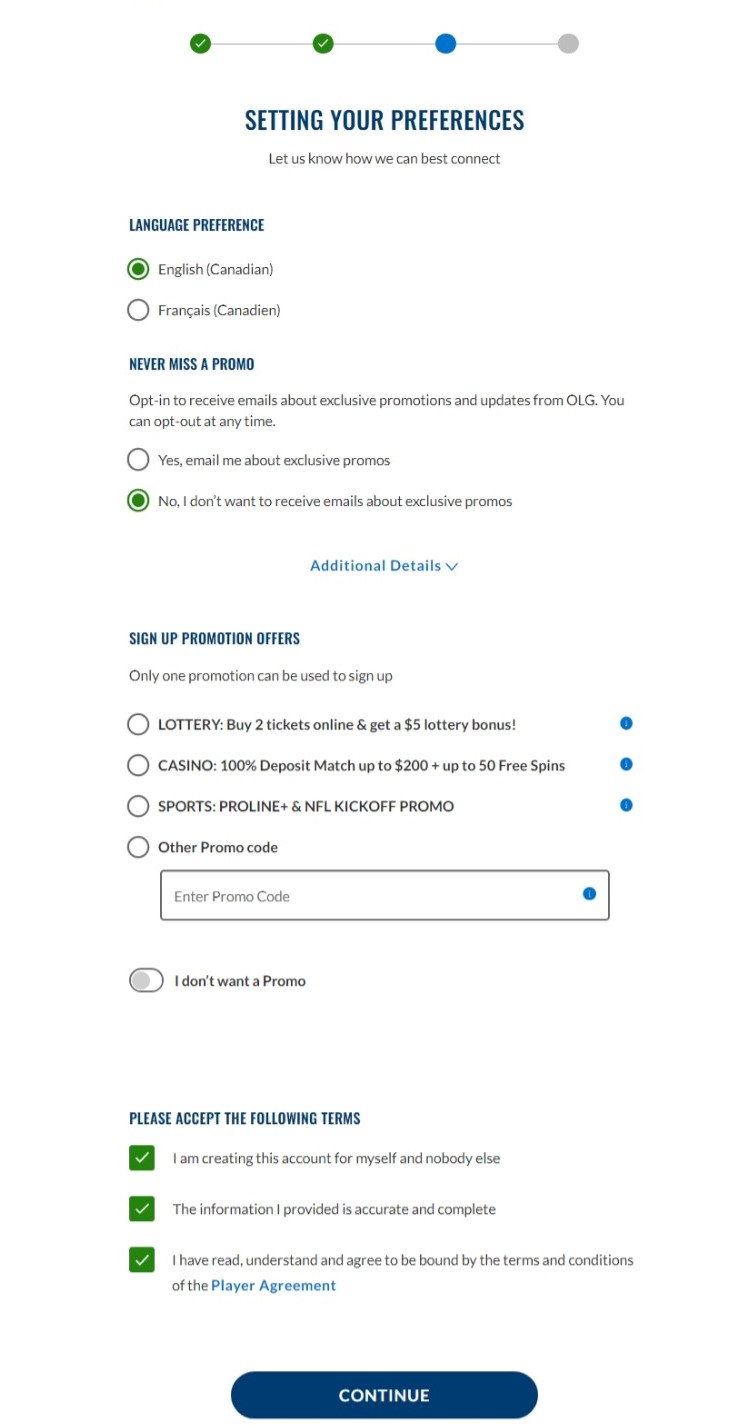 STEP 4:
REVIEW & SUBMIT
YOUR REGISTRATION
Give your account and personal information one last look! Once you have determined that everything is accurate, just click 'Submit' to proceed!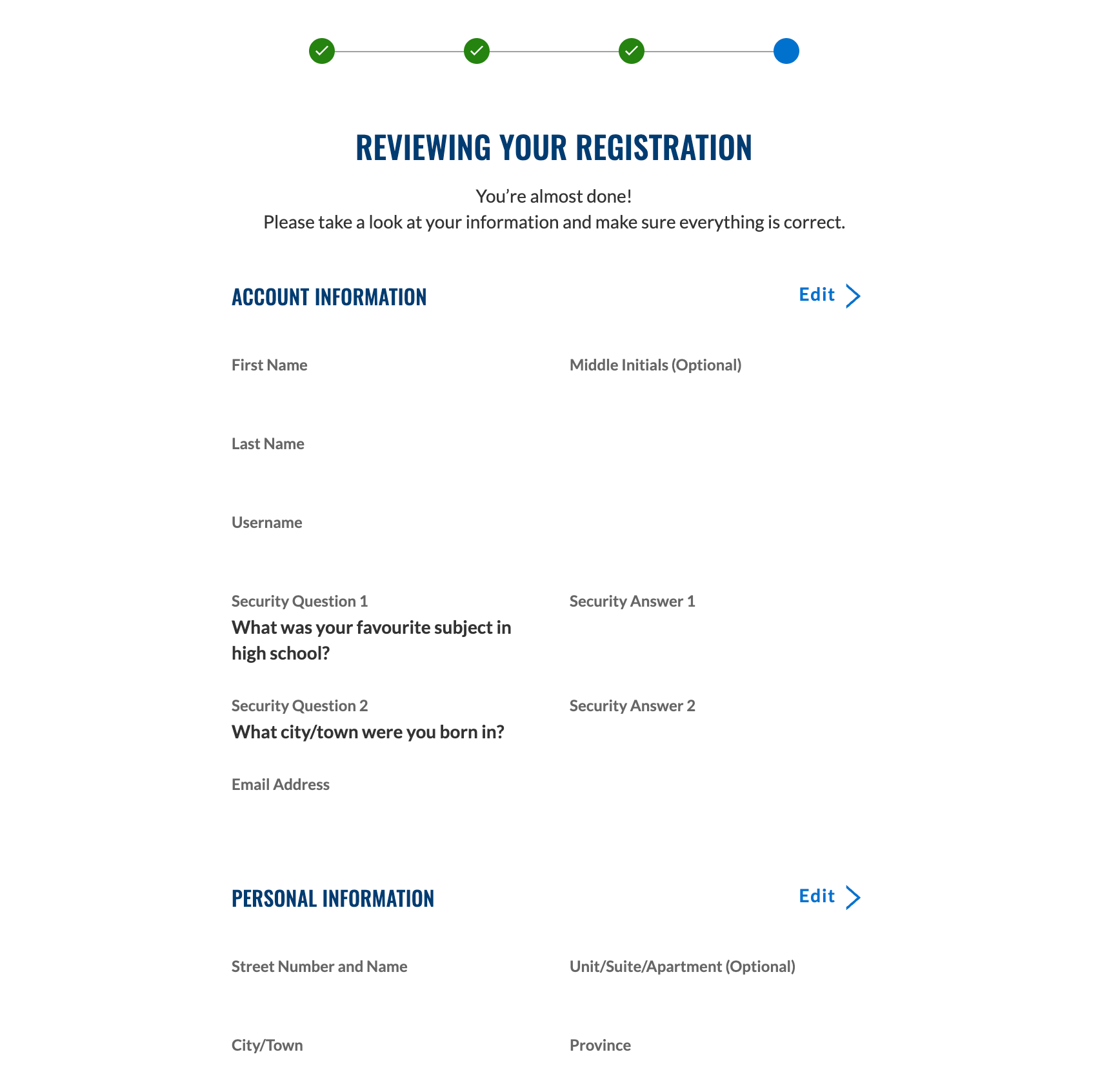 STEP 5a:
GET VERIFIED
You're almost there! You need to verify your email address to start playing. Go to the email you registered with, open the verification email in your inbox and click 'Activate.'
Now you're ready! Simply login in and start enjoying OLG.ca!
STEP 5b:
IDENTITY VERIFICATION
If you've received the 'Required info to complete your OLG registration' email in your inbox we need some documentation to verify the following:  
Your Name 

Your Address 

Your Date of Birth - to ensure you are of age to use our products 
Go to the email address you registered with, open the above-mentioned email in your inbox and click 'Upload your documents'. 
Preferred documents are government issued identifications such as:  
Valid Ontario Driver's License 

Valid Ontario Photo Card 
If you do not have a valid Ontario Driver's License or Valid Ontario Photo Card please submit one from each column in the chart below.
Government issued ID

Bills and Statements 

Canadian Passport 

Certificate of Indian Status (Canada) 

Canadian Firearms license 

Canadian Citizenship Card 

Birth Certificate 

Similar Canadian Government ID 

Phone bill 

Cable or Internet bill 

Gas / Water / Electricity Bill 

Insurance / Mortgage / Property Tax statement 

All documents must be recent (within 2 months) 

 
Once submitted our team will review your documents and activate your account or reach out via email for more information.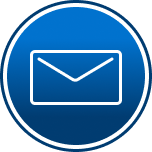 You must be of legal age to play — that's 19+ for casino games, and 18+ for lottery. And you must be residing in Ontario and located in the province at the time you intend on playing. Sound good? Let's play.