HOW TO MAKE A WITHDRAWAL ON OLG.CA
Want to withdraw your winnings? It's easy!
BEFORE WITHDRAWING FUNDS
Before you can withdraw funds, you need to register a bank account that is in your name and upload supporting documentation so we can securely transfer the money to your bank account.

Simply log in and navigate to 'My Balance' in the upper right corner of the header beside your Player Icon.

Click your balance amount (highlighted in yellow) and choose 'Withdraw Funds.'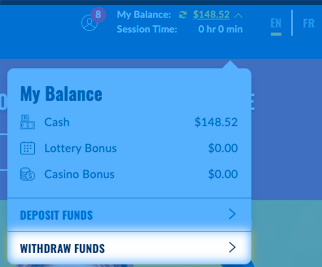 GATHER YOUR BANKING DOCUMENTS
Grab a void cheque, cleared cheque, or a bank statement. You'll need the following bank account details for Step 2:


Banking institution number (3 digits)
Branch transit number (5 digits)
Account number (up to 12 digits)

Keep your document(s) containing these details nearby, and then click 'Next'.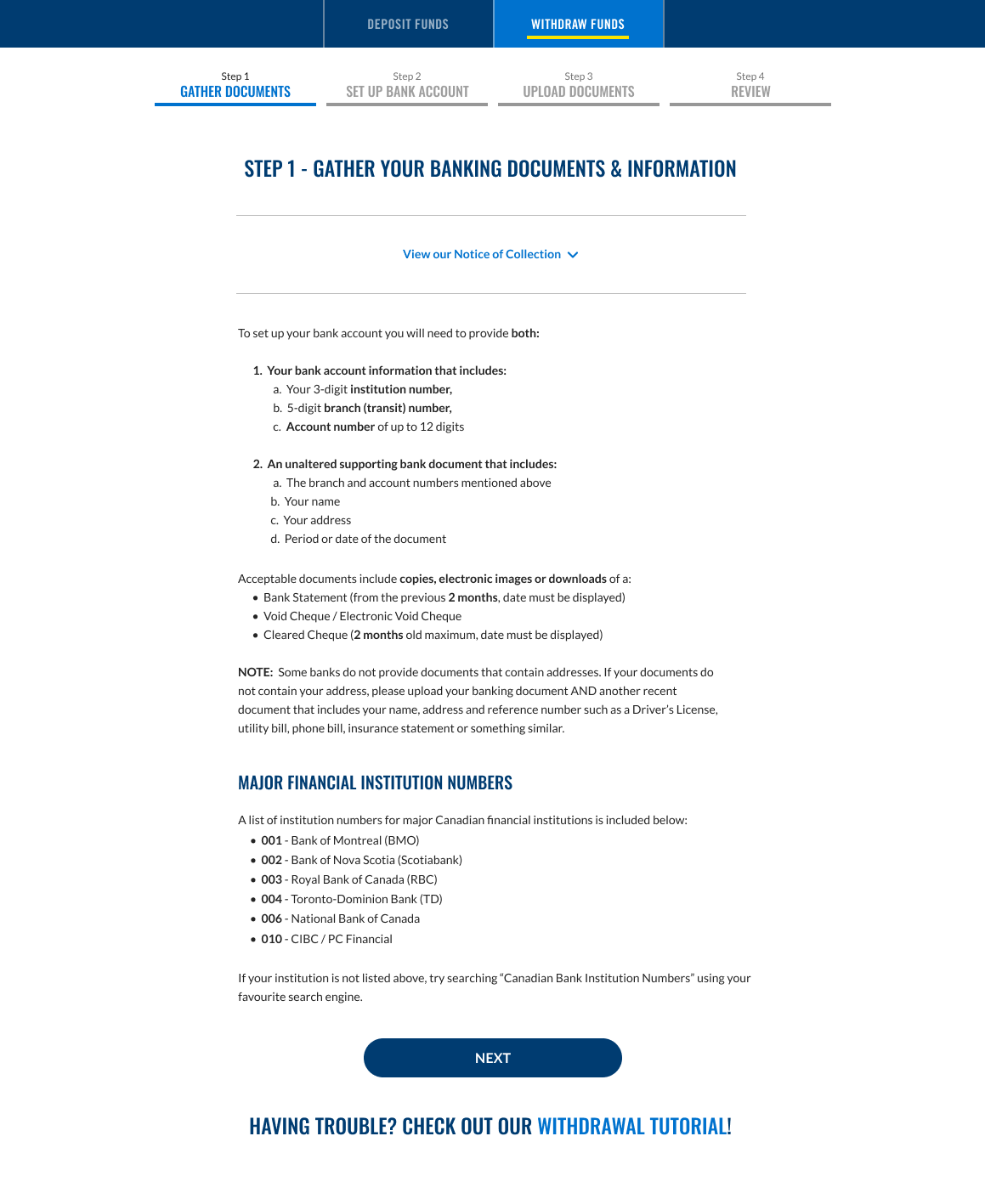 SET UP BANK ACCOUNT
Next, enter your banking institution, transit and account numbers in the given fields. Then click 'Next' to save your banking details and proceed to the next step. You're halfway there!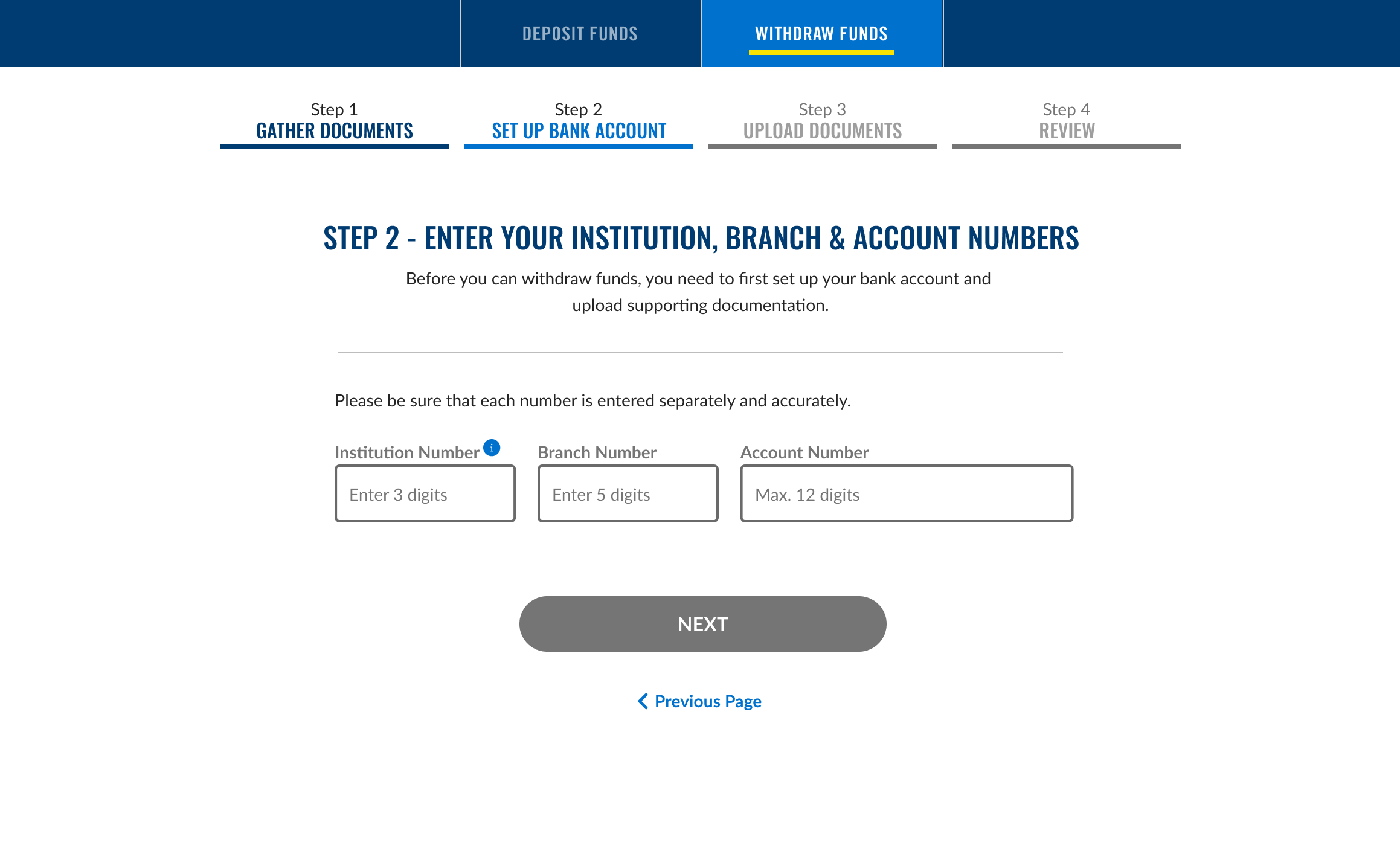 UPLOAD DOCUMENTS
Next, verify your account by securely uploading documents containing your name, address and banking information. Acceptable documents include copies, electronic images or downloads of a:
Void Cheque / eVoid Cheque
Cleared Cheque
Bank Statement
If your bank document does not contain your address, you can upload a combination of:
One of the banking documents mentioned above
A piece of mail, such as a utility or phone bill, that includes your name and address.
To proceed with uploading the required documents, select 'Add File(s).'
Once your documents have successfully uploaded, click 'Next' to review your information is accurate before submitting.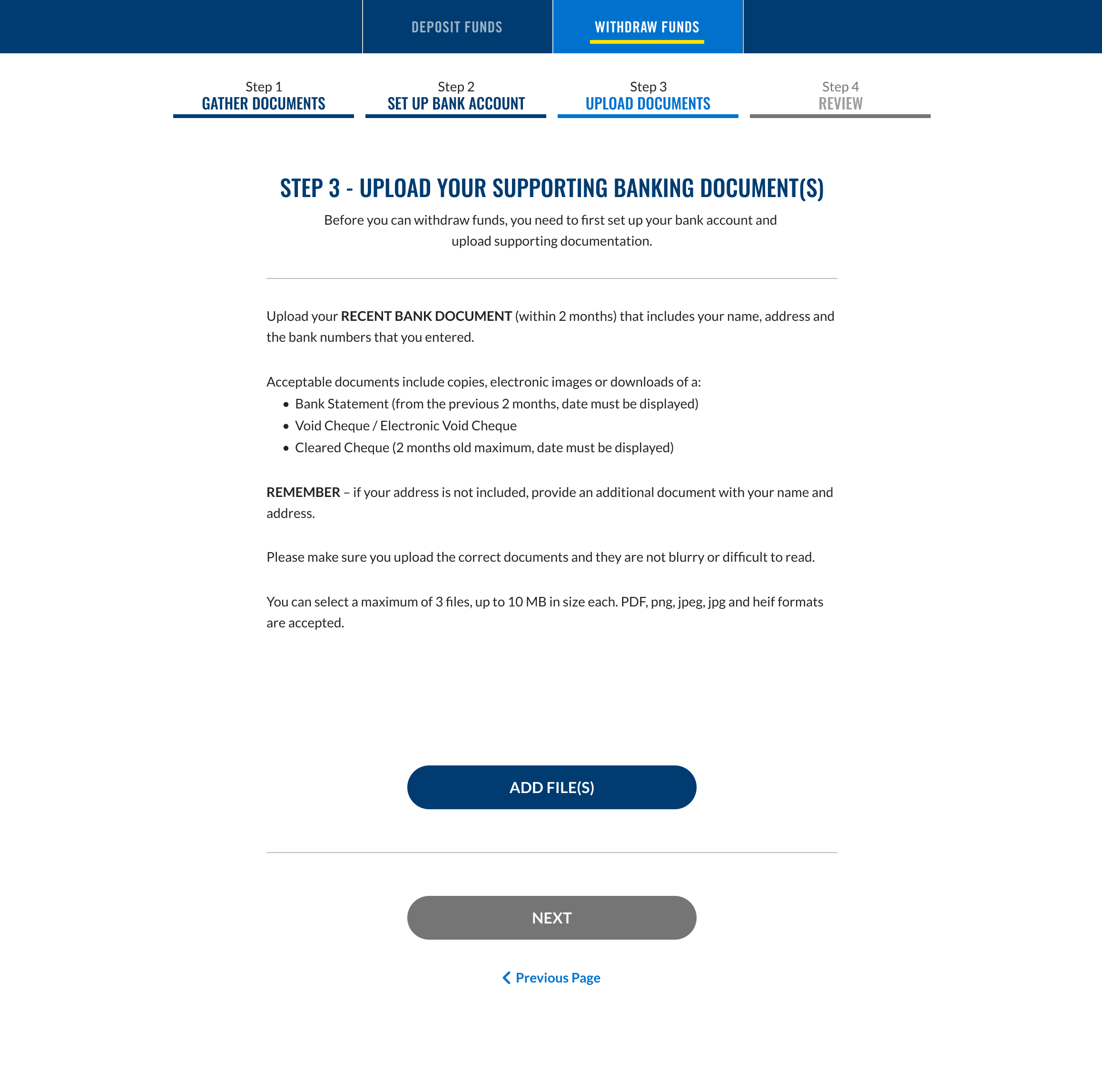 REVIEW YOUR INFO
The next step is to review your bank account information and uploaded documents for a final time before submitting. If all information is accurate, click 'Submit'.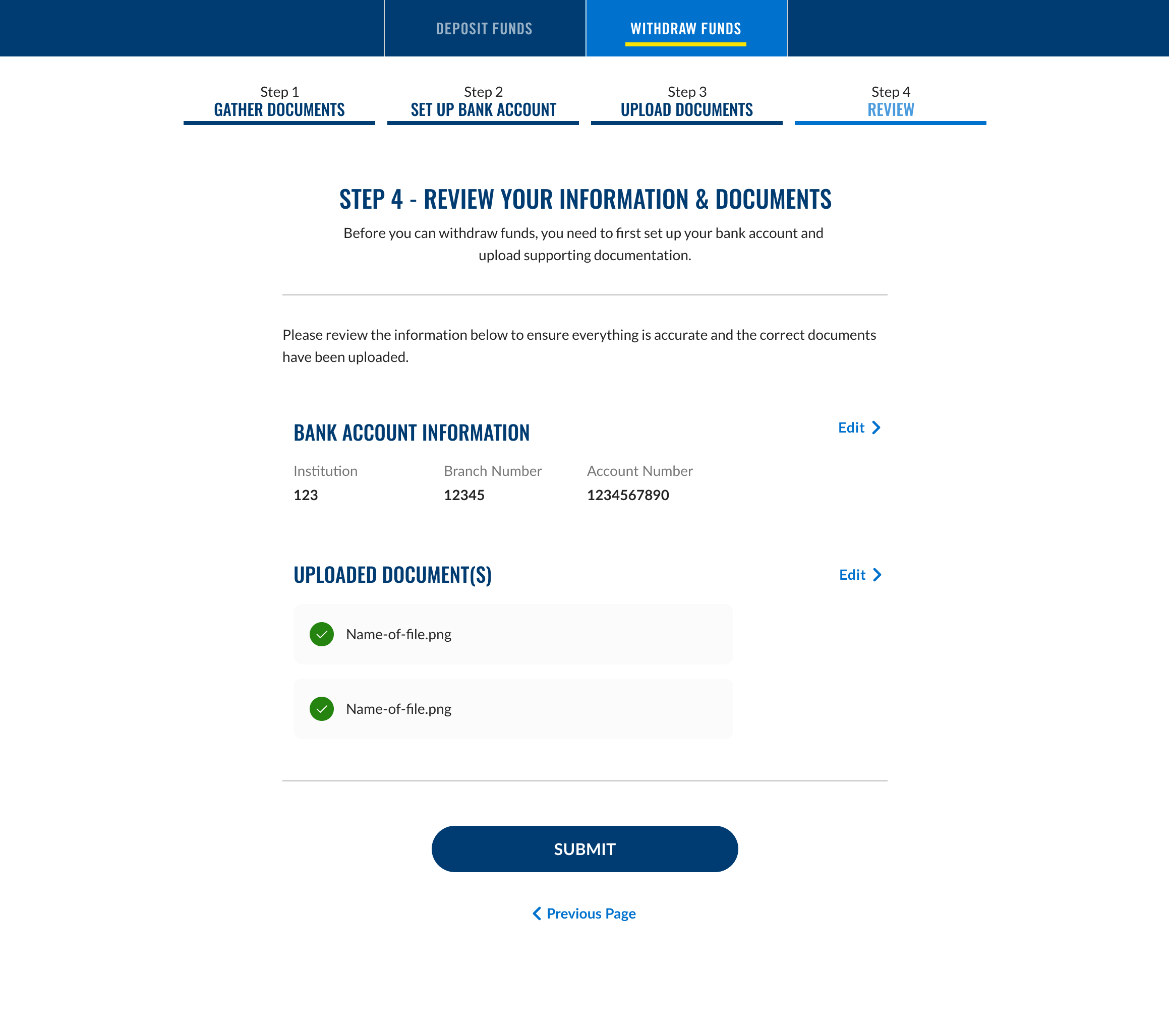 Success! Now that your documents have been submitted and are awaiting verification, click 'View Bank Details' to review your bank account information.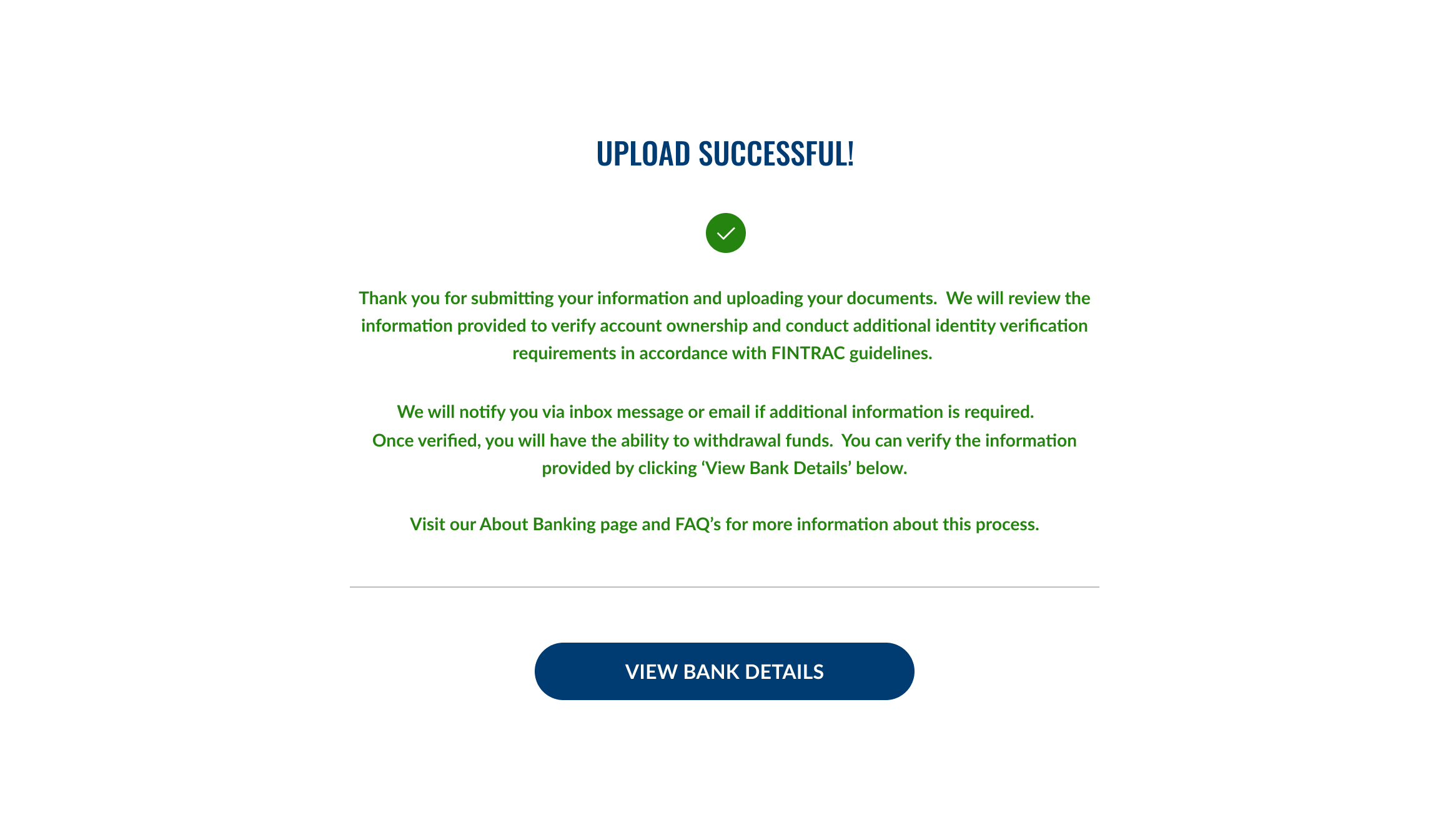 Unverified – Bank account pending verification
If you see this below 'My Bank Account', you
cannot withdraw funds until your bank account
is verified. Once verified, you can proceed
to STEP 3.
Verified – Verified Account
Woohoo! If you see this below 'My Bank Account',
you're all set to proceed to STEP 3! Nice one!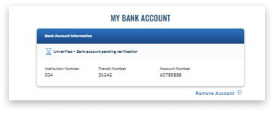 ENTER & SUBMIT YOUR WITHDRAWAL AMOUNT
You're now ready to withdraw! Enter the amount you wish to withdraw into the field and click 'Submit.'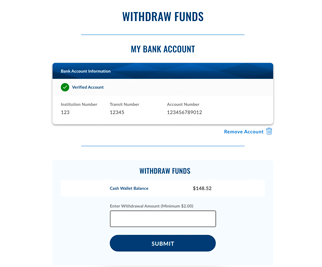 Once submitted, you will get a notification saying your request has been received and is pending approval. You can also scroll down to your 'Pending Withdrawals' to check.

Made a mistake or changed your mind?
No worries. Simply scroll down to your 'Pending Withdrawals' and click 'Cancel' on the specific request.

VIEW ALL YOUR SUCCESSFUL WITHDRAWALS
Click the Player Icon, select 'My Transaction History', then 'Banking Transactions.'
Your withdrawal will be sent via Electronic Funds Transfer to your registered bank account and typically takes up to 5 business days for your financial institution to process.
You must be of legal age to play — that's 19+ for casino games, and 18+ for lottery. And you must be residing in Ontario and located in the province at the time you intend on playing. Sound good? Let's play.