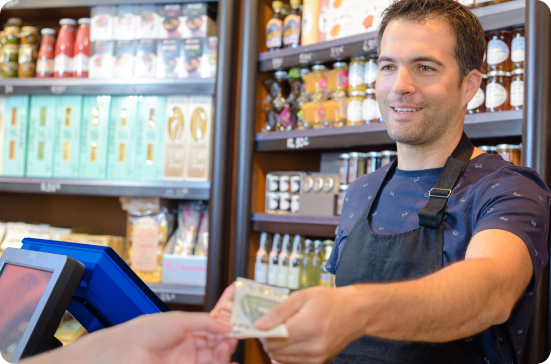 Claim in A store
Your fastest option is to take your winning ticket to a Lottery retailer to redeem your prize on the spot*. It's that easy!
To claim your prize of less than $1,000 in-store, you must sign the ticket before the retailer can validate it. If you appear to be 25 or younger, you may be asked for ID.

Complete list of acceptable identification
Provincial/Territorial/State's Driver's license

Certificate of Indian Status

Firearms Possession and Acquisition License (PAL)

Permanent Resident Card

Nexus Card

Passport (page with photo, signature, and date of birth)

Ontario Photo Card

Canadian citizenship card

Canadian Armed Forces card

Photo card issued by Liquor Control Board of Ontario (BYID)

A photo card issued under the Photo Card Act, 2008
Here's what to expect when you claim your prize in-store: 
Upon ticket validation, the terminal will play a Winning Sound and a Customer Receipt will print.
Visit our FAQ section to learn more about how to claim prizes and what you need to claim your prize depending on your situation.