YOUR NUMBER. YOUR PICK.  
PICKS are easy to play and offer 2 draws every day. You can check your ticket minutes after the draw to see if you are a winner!
Pick-2
$2 per play
Top Prize: $99
Pick 2 digits and match to win
Match the first digit to win $2
See the Odds and Payouts.
Pick-3
Pick-4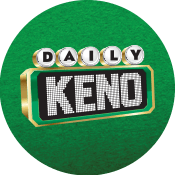 SET YOUR STRATEGY!
DAILY KENO is a game that lets you play your way.
Select your wager ($1, $2, $5 or $10)
Pick your numbers from 1 – 70
Match your numbers to the 20 drawn to win up to $2,500,000
See the Odds and Payouts.